Permitted Development Loft Conversion Guide 2023
Updated: Oct 31
Everything you need to know about loft conversions under permitted development 2023.


Class B - additions to the roof of the dwelling house.
Class B permitted development loft conversions provide you with excellent space for new Bedrooms, Bathrooms, En-Suites and Storage. At PermittedDevelopment.com, your personal designer will create intelligent designs to optimise your loft space!
​
​Permitted Development allows home owners to extend into the loft of their property, and in most instances, achieve exactly what they are looking for from their project without the need for planning permission. The size of conversion is set by the Government through their Permitted Development Technical Guidance and we have specialised in optimising these regulations to deliver your perfect loft conversion. And even if we discover that your desired conversion may go beyond the regulations, there is nowhere better to go as we have unparalleled planning knowledge in loft conversions. Still looking for more information on what is permitted development? Click here to view our dedicated page.
With years of experience in permitted development loft conversions, we're more than equipped to handle any project. The kind of certificate you will need to obtain is called a Lawful Development Certificate. For loft conversions, there is no prior approval or larger home extension scheme. This is because the permitted development loft conversion allowance is very generous.
The benefits of having a loft conversion


Loft conversion are a great way to add extra bedrooms without having to pay for
groundworks and foundations on the ground floor of the property. It really is the most cost effective extension you can undertake on your home. Whether you are looking for:
A new master bedroom with walk in wardrobe and en-suite.

Office space.

Spare rooms or children's bedrooms.

TV rooms and snugs.

Living room with viewing area.
Loft conversion are the best way to achieve this. Moreover, you can save time and the cost of moving home by spending money on your home and increasing it's value!


How our company, PermittedDevelopment.com brings your Loft Conversion to Life in 2023.


We offer a one-stop architectural service that's entirely bespoke to your project. Our permitted development specialists have broken the traditionally complex planning process down into our three simple architectural stages, and with your personal designer by your side throughout, with us, it couldn't be more simple.
Our tailored plans start at just £750. Start your permitted development journey and book your free consultation with us today
Stage 1 - Measured Survey & Existing Architectural Plans.
- (Existing Floor Plans, Elevations, Roof Plans, 3D Views)
​
Stage 2 - Concept Architectural Plans - your personal designer will bring your loft conversion to life.
- (Proposed Floor Plans, Elevations, Roof Plans, 3D Views)
​
Stage 3 - Developed Architectural Plans - unlimited design revisions to perfect your loft conversion. Utilising our expert planning knowledge we will complete your application and work with your Local Planning Authority to achieve your Lawful Development Certificate or Planning Permission.
Stage 4 - Full Building Regulation Drawings & Full Structural Design with Calculations to deliver complete construction drawings to your contractor of choice.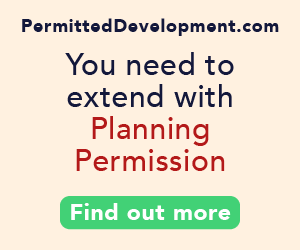 The different types of permitted development loft conversions in 2023


Dormer loft conversion:
A dormer loft conversion is the most common type of loft conversion as it provides you the most additional space in the loft. Typically, you can create a dormer that spans the full width of your attic, essentially creating a complete new floor similar in size to the first floor. You can add as many rear windows to the dormer, and whatever size of window that suits your requirements and character of the property. Flooding the loft with natural light is not usually a problem with the use of windows to the rear and rooflights to the front of the property.
Here is an image of a loft we achieved under permitted development and really is the most common loft conversion we undertake... this is on a bungalow, however the same is possible on a traditional two-storey house.
Here is an image of property undertaking a side dormer loft conversion, these are completely achievable under permitted development loft conversion rights, you can add side dormers on both sides of your property...


Hip to Gable loft conversions


Hip to gable loft conversion are a recent addition to your permitted development loft conversion rights. Essentially on properties where the pitch is on all three sides of your property as seen below, traditionally loft conversions were not that feasible, as planning permission was hard to achieve. However, now under permitted development you can undertake a hip to gable loft conversion which opens up the attic space to a pitched roof size. You can also add a dormer on the rear with the hip to gable as seen below under your permitted development loft conversion rights 2022.
To This...
Attic loft conversion


An attic loft conversion is the most simple loft conversion to undertake. It simply just converts the space of your attic into living accommodation. Usually these are best if you have a very tight budget, however, in most houses the stairs don't line up perfectly for this conversion, so some compromise of internal layout in the attic is required to meet the building regulations of new stairs. Moreover, head height in these loft conversions can be an issue depending on the pitch of your roof, typically house with 30 degree- 40 degree roofs will require a dormer to make the rooms fully usable. But if you have a steep roof pitch, it shouldn't be an issue and simply the addition of roof lights (Velux's) is the best way to bring light in. Under permitted development you can rooflights on the front and rear of your property.
Your Loft Conversion Permitted Development Rights 2023
​
Class B additions to the roof are not permitted if:
​
(A) Permission to use the dwellinghouse as a dwellinghouse has been granted only by virtue of Class G, M, MA, N, P, PA or Q of Part 3 of this Schedule (changes of use).
​
(B) Any part of the dwellinghouse would, as a result of the works, exceed the height of the highest part of the existing roof.
​
(C) Any part of the dwellinghouse would, as a result of the works, extend beyond the plane of any existing roof slope which forms the principal elevation of the dwellinghouse and fronts a highway.
​
(D) The cubic content of the resulting roof space would exceed the cubic content of the original roof space by more than,
(i) 40 cubic metres in the case of a terrace house, or
(ii) 50 cubic metres in any other case.
​
(E) It would consist of or include;
(i) The construction or provision of a verandah, balcony or raised platform, or
(ii) The installation, alteration or replacement of a chimney, flue or soil and vent pipe.
​
(F) The dwellinghouse is on article 2(3) land.
(G) The dwellinghouse is built under Part 20 of this Schedule (construction of new dwellinghouses).
​
(H) The existing dwellinghouse has been enlarged in reliance on the permission granted by Class AA (enlargement of a dwellinghouse by construction of additional storeys).
​
(Extra Info) Development is permitted by Class B subject to the following conditions:
​
(A) The materials used in any exterior work must be of a similar appearance to those used in the construction of the exterior of the existing dwellinghouse
​
(B) The enlargement must be constructed so that
(i) Other than in the case of a hip-to-gable enlargement or an enlargement which joins the original roof to the roof of a rear or side extension
(aa) The eaves of the original roof are maintained or reinstated; and
(bb) The edge of the enlargement closest to the eaves of the original roof is, so far as practicable, not less than 0.2 metres from the eaves, measured along the roof slope from the outside edge of the eaves.
​
(ii) Other than in the case of an enlargement which joins the original roof to the roof of a rear or side extension, no part of the enlargement extends beyond the outside face of any external wall of the original dwellinghouse.
​
(C) Any window inserted on a wall or roof slope forming a side elevation of the dwellinghouse must be;
(i) Obscure-glazed, and
(ii) Non-opening unless the parts of the window which can be opened are more than 1.7 metres above the floor of the room in which the window is installed.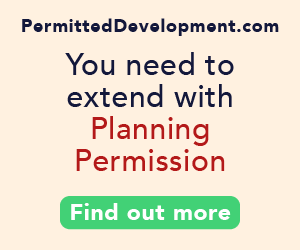 How we can obtain your permitted development loft conversion


Lawful development certificates allow permitted development loft conversions on a terraced house, house up to an additional 40 metres cubed on top of the original loft space. For detached houses, semi-detached houses and bungalows, you can create up to 50 metres cubed on top of the original loft space. This additional space is created from the addition of a dormer (Extension out of the existing roof). In most instances, the dormer can span the full width of the rear of the property providing ample space to deliver exactly what you are looking to achieve.
​
Permitted Development loft conversions under a lawful development certificate are great! Because the council can not refuse the application and neither can your neighbours, providing you a 100% chance of approval. Unlike the traditional planning permission route which can take longer and have limited success.


We undertake a full measured survey of your existing house to enable us to plan your home reliably and cost effectively. We produce as existing drawings of your property which are required in your Lawful Development Certificate.
​
Your personal designer will undertake a detailed design brief with you where we will discover exactly what you are looking to achieve from your loft conversion. They will design two concepts from your brief and create bespoke architectural drawings tailored to you.
We will provide you with the highest quality floor plans, elevations, and 3D views as seen in our videos. We will also provide rendered images that will give you a full understanding of the possible materials and finishes. You'll be able to see exactly what it will look like in real life before it is built!
​
You will then work with your personal designer to tailor the concepts and create your perfect design! ​ We understand that this process is difficult and decisions are hard. However, your personal designer will be there to help every step of the way and will draw recommendations from their architectural and local planning experience to make the design process seamless. ​Unlimited drawing revisions will enable you to create your perfect extension.
Once the design has been achieved, we will obtain a Lawful Development Certificate, or if it is required planning permission. You are now ready to build!
Legally, you must ensure that your project complies with building regulations which is a statutory requirement. ​ Our building regulation and structural drawings cover everything from the foundations all the way up to fire regulations, thermal efficiency, and even sound insulation. ​ We have vetted chartered structural engineers, building regulation specialists, party wall surveyors, drainage experts, land surveyors, and all other potential third party specialists that could be required in the signing off of your project. ​ This process will leave you in the best possible position going into the construction phase, providing your builder and your local authority's building inspector with everything they require.
​
We hope you are as excited to start your project today as we are! Please fill out our Contact Us form below so we can start your project as soon as possible. Or feel free to call us where you can speak to one of our specialists for any information you require.