Permitted Development.com
Residential Design & Build Contractors
Are you considering an extension or renovation to your home, but don't want to go through the time and expense of obtaining planning permission? Permitted development rights allow you to extensions or loft conversions to your property without the need for planning permission. Our company can help you determine whether your proposed project is eligible for permitted development and guide you through the process of obtaining any necessary approvals. We have a team of experts who are up to date on the latest permitted development rules and regulations and can advise you on what is and is not allowed. Don't risk incurring delays – let us help you navigate the permitted development process and ensure that your project is a success. Contact us today to learn more.
We offer a one-stop architectural service that's entirely bespoke to your project. Our permitted development specialists have broken the traditionally complex planning process down into our three simple architectural stages, and with your personal designer by your side throughout, with us, it couldn't be more simple.
Our tailored plans start at just £750. Start your permitted development journey and book your free consultation with us today
​
Stage 1 - Measured Survey & Existing Architectural Plans.
​
Stage 2 - Concept Architectural Plans - your personal designer will bring your extension to life.
​
Stage 3 - Developed Architectural Plans - unlimited design revisions to perfect your extension. Utilising our expert planning knowledge we will complete your application and work with your Local Planning Authority to achieve your Lawful Development Certificate or Planning Permission.
​
​
What is Permitted Development?
Permitted Development can almost certainly achieve the extension you have been thinking about undertaking.
Permitted Development was introduced by the government in 2015 by the Ministry of Housing, Communities & Local Government. They drew up a set of regulations which can be applied to every household in the UK looking to undertake an extension. The idea is to allow common householder extensions to be approved without the need to go down the traditionally slow and outdated planning application route.
​
This has helped thousands of householders out hugely, as it provides vast opportunities and exciting prospects to invest into your own home and create the new space you are striving for!
​
Permitted development applies for Rear Extensions, Side Extensions, Loft Conversion, Porches, Adding Additional Stories and Outbuildings. For more information about permitted development you can visit our dedicated page here.
So whether you're looking for a...
This is why you need Permitted Development.com
You'll be assigned your very own personal designer, that will be there throughout every stage of the project. They'll work tirelessly to ensure that the finished plan is exactly what you envisioned. We thrive on a healthy and collaborative flow of ideas between you and your designer. Your ideas and suggestions are at the centre of everything we do, and we won't stop until your dream extension is complete.
Our experienced designers use an advanced software, that allows you to visualise exactly what your project will look like before the work begins. With an unlimited amount of design revisions, we can present your project in several different styles and finishes in order to really deliver that personalised touch.
Our permitted development specialists work in line with strict permitted development regulations. This means that you can feel safe in the knowledge that the plans we produce will be lawful and accurate. So you can hand them over to your builder with confidence.
Guaranteed success by following our 4 simple stages
Stage 1 - Survey & As Existing Drawings
One of our specialists will complete a measured survey of your property and this will form the base of the Existing Drawings that we can then design your extension from.
​
During this stage, you'll also meet your Permitted Development Personal Designer and discuss your visions for the project.
Stage 2 - Concept Designs
We'll help you make informed architectural decisions. Then we will bring them into life through our industry-leading CAD software.
​
Through the advanced 3D graphics, you'll be able to exactly what your project will look like before it's built making design decisions that much easier.
Stage 3 - Developed Design & Submission
During stage 3, you'll be able to review the plans we've made and make unlimited changes if necessary. This is part of our promise to guarantee your dream extension.
​
You'll also receive confirmation of your Lawful Development Certificate submission and we will liaise with your local council to ensure the application goes as smoothly as possible.
Stage 4 - Building Regulations & Structural Design



In the final stage, we'll ensure sure that all the project's technical specifications are delivered.

We will hand you over to our vetted structural engineers and third party specialists to deliver structural design and calculations along with building regulation drawings so construction can begin with ease.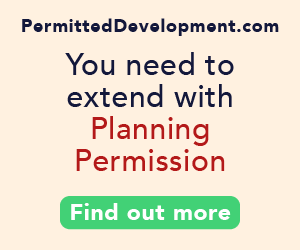 A floor plan that works for you.
Our process provides you with a well thought out layout, designed with your individual needs in mind.
3D drawings to enhance your vision.
Visualise the full design of your extension with our leading CAD software.
Revisions that perfect design.
Your personal designer will work with you tirelessly until your vision is drawn into reality.
Permitted Development.com Have Revolutionised Home extensions
When you work with the permitted development specialists, you can:
Avoid the eight-week delay waiting for council planning permission approval.

Start building within four weeks of appointing us.

Gain your Lawful Development Certificate; this both guarantees your project's success and is cheaper than planning applications.

Ensures that the council and neighbours can't object to your extension.

Extend the rear, side and loft of your home, as well as construct additional stories, porches and outbuildings.
We contacted Oscar to help design a loft conversion for our property, which resides within a Conservation area. He was extremely professional, knowledgable and efficient and made each step of the process incredibly straight forward and seamless. His ideas were innovative and attractive, taking into account the needs of our family. We were provided with several options for designs and our input was welcomed. Oscar managed the planning permission stage (which was successful) and connected us with excellent structural engineers. An absolute pleasure to work with, we would wholeheartedly recommend his services.