Everything you need to know about Permitted Development
Call us on: 02071 014730 to speak with one of our permitted development specialists today.
PermittedDevelopment.com is the UK's leading permitted development architectural firm.
Click our website to get a free quote for your project.
Or just give us a call on 02071 014730 for guidance
We can't wait to deliver the architectural drawings that will bring your extension into life.
Get Your Rear Extension Drawings Today from £999
with a 10 Day turnaround time.
So, What is Permitted Development ?
Permitted Development was introduced by the government in 2015 by the Ministry of Housing, Communities & Local Government. They drew up a set of fixed regulations which can be applied to every household in the UK looking to undertake an extension. The idea is to allow common house holder extensions to be approved without the need to apply for planning permission.
​
This has helped householders out hugely, as it provides vast opportunities and exciting prospects to invest into your own home and create the new space you are striving for!
​
Permitted Development Rights can be complex and changes are always on the horizon... so make sure you are up to date with exactly what you can achieve under permitted development right here, at permitteddevelopment.com the UK's leading Permitted Development Practice.
What part of my house can I extended under Permitted Development?
Permitted Development allows you to extend almost every part of the original dwelling. The original dwelling is taken as what stood on July 1st 1948 and if your property was built after 1948, don't worry, you most certainly have your permitted development rights intact. The only properties in England that do not have their permitted development rights are the small number that fall in the following categories:
- If you live in a conservation area, a national park, an area of outstanding national beauty or a world heritage site.
- You live in the Norfolk or Suffolk Broads.
- In most instances when your property is listed by Historic England.
- When your local government has issued an article 4 direction on your land.
- If your property has been built recently as a new dwelling in the last few years.
​
So, for the 99% of us...
We can extend the Rear, Side, Loft, Porch of our homes and even create new Outbuildings to enjoy the use of in our gardens. In reality, almost 90% of all common house holder extensions can be achieved under Permitted Development! So it is vital to discover what exactly you can achieve on your own home...
Is there a limit to how large I can extend under my Permitted Development rights?
In short, there are limits to what is achievable, however, the allowance's keep on being increased and with 90% of home extensions last year being undertaken with permitted development rights, you can't go too far wrong at all. Even if you wish to increase over the Permitted development allowance, there is the Larger Home Extension Scheme (Prior Approval), which allows to you increase even further with consent from your neighbours, up to 8m to the rear for detached properties. Remember though, it is to the original dwelling only, so if you have bought a property that has already had an extension since 1948, this will eat into your Permitted development allowance.
​
Drag slider to see before and after!
Has the Council removed my Permitted Development rights?
It is rare that your council has removed your permitted development rights, however, this is not to say that it hasn't happened to you. Your Local Planning Authority (LPA) issue what's called an Article 4 Direction on your land. This totally removes all of your permitted development rights, however, don't worry, it just means that for all extensions you wish to make you have to submit and be approved a planning application from your LPA. In most cases, if you then design to the permitted development rights, your LPA should be looking to approve the planning application, however, planning officers do occasionally have their different opinions.
What is a Lawful Development Certificate?
A Lawful Development Certificate (LDC) is the official document that your LPA provides you to guarantee that your extension is legal and has been designed correctly to your permitted development rights. In short, it takes the place of a planning decision notice that is issued after a planning application. It is recommended to achieve your LDC in the pre-construction phase before your extension has been built, as often we find at permitteddevelopment.com ourselves having to submit retrospective planning applications for those who have been mislead in the build process. There is a win too, the application fee is half the price of a planning application fee! :)
What is the Larger Home Extension Scheme & Prior Approval?
The Larger Home Extension Scheme (LHES) can be seen as a close branch off your permitted development rights. It is there for homeowners looking to extend past there permitted development allocation and utilise their full allotted allowance. It only applies for single storey rear extensions and when adding additional storeys to your existing property. LHES allows you, with neighbours consent, to extend up to 6m for a terraced / semi-detached property and up to 8m for a detached property. And yes, you did read correctly, prior approval allows your to add two additional storeys for all houses and add a single storey for all bungalows! So, you really have come to the right place to achieve your new extension!
Use the slider to check out this before and after example of a Permitted Development side extension!
How do I start my extension under Permitted Development?
Permitted Development is just like all building work, it should be approached with the correct process. You need to first find an architect that will design your extension to your individual needs and maximise your properties permitted development potential. At permitted development.com for example, will take you right from the beginning and be right by your side to guide you through the entire process to ensure it runs as smoothly as possible. Once your extension is designed to your specification, a LDC will be obtained from your LPA and with permitted development providing a 100% success rate, your architect can start to prepare your extension for building. This includes building regulation drawings and then structural design and calculations. Once the engineers are finished, you are ready to Go! You will have all the information in hand to provide your builder of choice to start constructing.
​
Does Permitted Development have to meet Building Regulations?
PD has to meet all the current Building Regulations. Building regulations are governed by a separate department within your LPA called Building Control. Building Control need to be informed of any extension work that is being carried out whether permission was obtained via planning permission or a lawful development certificate. Building regulations can either be met via 'Full Plans', where your architect completes a full set of building regulation drawings and submits to building control for passing, or, you can undertake a Building Notice, here your builder then satisfies the building inspector sent by the council that the regulations have met during the construction phase.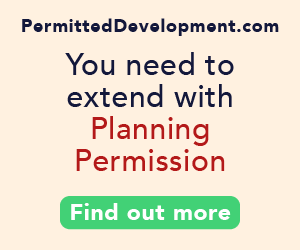 What happens if I build without a Lawful Development Certificate?
A LDC is required. It guarantees that your extension is legal and you don't want to be in the position of having to submit a retrospective planning application and run the risk of the council demolishing all work completed that does not meet permitted development rights. Additionally, you have to receive a LDC when selling your home, as the solicitors require a LDC on all extension work completed under permitted development to enable them to exchange contracts and determine the extension 100% lawful. So, due to these reasons it is best to always achieve a LDC before works starts, as it will save you from all the headaches the future holds.
Can my neighbour stop my Permitted Development?
No. Your permitted development rights are you rights, and your neighbours are not able to object to the works carried out under permitted development. Your neighbours are able to comment on Larger Home Extension Schemes & Prior Approval applications as these have more impact on their property. If your neighbour does object to the application, the planning officer within your LPA will step in and assess the situation and come to a decision more inline with the traditional planning process, however, with more of a bias towards the construction being granted.
Can you move drains for Permitted Development?
Yes. 9 times out of 10 you are able to move your rain water drain / inspection chamber and waste pipes to allow space for your extension. This is usually a straight forward procedure even if you share your drains with your neighbours.
Step by Step Guide how to start your Permitted Development extension